Pina Colada Smoothie – Made with real cream of coconut and pineapple. This recipe makes the perfect refreshing pina colada to bring you a taste of the tropics and I can enjoy this refreshing cool smoothie all day long.
This drink is so simple and super easy to make. Traditionally piña coladas are made with cream of coconut and fresh pineapples. If you don't like eating fresh pineapple or for some reason don't have fresh pineapple, try using canned pineapple in this recipe instead. Just make sure to choose a pineapple that is canned in water or natural juice instead of syrup.
For smoothies, I usually try to use as much frozen fruit as I can. For this Piña Colada smoothie I use fresh pineapple that I cut up and pop in the freezer just for smoothies so when I have to make it, I just grab it out of the freezer and pop it in the blender.
To give it extra creaminess, add vanilla ice cream scoop, trust me it gives creaminess and enhances the flavor and you will love this smoothie.
My daughters drank most of it because, well, both are my daughters after all 😀 and they love it as much as I do.
Would I make it again? Absolutely! We've made it several times and I always forget how refreshing and simple it is! Enjoy!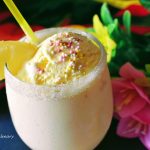 Ingredients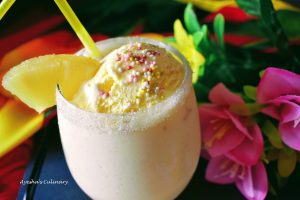 2-3 circle slices of  Pineapple (fresh or frozen)
1/2 cup Coconut cream*
2 teaspoons Honey (optional)
2 Scoops Vanilla icecream
1/4 cup pineapple juice (not syrup)
Ice (optional)
*You can use coconut milk instead of coconut cream, sweetened or unsweetened depending on preference.
Instructions
Add All ingredients to a blender and mix.
Makes one large smoothie glass.
Serve with a pineapple wedge and ice cream scoop. 
TADAAA...