What could be the most perfect and delicious dessert this summer than a tangy, sweet, and fresh Peach Cobbler combines tender juicy peaches with super-easy buttery biscuits crust and topped with the scoop of cold vanilla ice cream, for the perfect dessert recipe.
Southern Peach Cobbler:
Cobbler is a dish consisting of a fruit or savory filling poured into a large baking dish and covered with a batter, biscuit, or crispy crust before being baked. Some cobbler recipes, especially in the American south, resemble a thick-crusted, deep-dish pie with both a top and bottom crust. Cobbler is part of the cuisine of the United Kingdom and the United States, and should not be confused with a crumble.
So this summer, when you have plenty of fresh peaches make this sweet dessert with the ripe peaches topped with a buttery dough of biscuit and served it hot with a great combo of a scoop of cold vanilla icecream.
The best thing about this recipe is, this old fashioned peach cobbler is not only very easy, but this recipe also is very quick and easily can be made at home from scratch and doesn't need to buy something extra from the grocery store. That's the reason this cobbler is one of my all-time favorite desserts.
How to Make The Best Peach Cobbler From Scratch In Details? Watch With Us!
How to Make Fresh Peach Cobbler?
This is the classic done right and done the old fashioned way. Southern peach cobbler can't get any better than this. Though I have made peach cobbler more times than I can count, it really doesn't require more than a few ingredients.
Peaches: To start, you begin with the peaches which can either be fresh, frozen, or canned. I will give you more details below but you can really select anything you prefer here. I have picked some fresh peaches because this is the season of peaches so what could be the best than these fresh and ripe peaches.
Peache cobbler filling: If using fresh peaches you'll need to remove the skins. To easily peel peaches, drop them in a large pot of boiling water for about 20 seconds then quickly remove them placing them in ice water to cool them down so they don't cook. At that point, the skin should easily come off. Cut these peaches into 2 inches cubes. Peach chunks easily fit on your spoon and they don't become as flimsy as peach slices.
To develop sweet spiced peaches and syrup, I also add brown sugar. I find that adding brown sugar gives a little strong flavor with the addition of molasses. Additional spices such as cinnamon and nutmeg are also added to the bunch. If your peaches are sweet, you may like to reduce the sugar in this recipe! A full tablespoon of pure vanilla extract rounds out the filling. Cornstarch is used to thicken the filling and gives balance consistency. Stir all these ingredients together until mix thoroughly.
Take a 9×7 inches casserole or deep pan dish grease it with butter. Pour the mixed filling of peaches evenly in the base of the greased pan and bake for 10 minutes. Pre-baking the peach filling for about 10 minutes before adding the biscuit topping. Without this step, the peaches could remain firm underneath the topping.
Prepare the Biscuit Topping:
Mix a few basic ingredients together in a bowl. You need flour, sugar, baking powder, and baking soda. Cut in cold butter with a pastry cutter or fork until pea-sized crumbs form. These flour-coated butter crumbles promise a flaky soft, but crisp biscuit topping. After that, mix in buttermilk.
You don't need to knead it. Using your hands, form the dough into little patties and place them on top of the warm peaches. Crumbling -pressing -generally spreading the cookie-dough-like base over the top of peaches. Just use your fingers. NOT FANCY! Brush some egg wash on the crust to give it some nice golden color and sprinkle some brown sugar and cinnamon on top. Bake it in the preheated oven until turns golden or when inserted toothpick in the crust comes out clean.
Crazy easy right? I love that the biscuit topping is made from basic ingredients. And I know you'll appreciate that too! I strongly recommend using buttermilk for an ultra-rich biscuit flavor. There's more crunchy texture and the whole thing tastes wholesome and rich, especially when the warm sticky peach syrup and vanilla ice cream topping cross paths.
I've made many versions of peach cobbler in my quest for greatness, and here's why I think this one is the best peach cobbler.
Few ingredients.
Extremely juicy and jammy when using amazing fresh peaches.
Still works with frozen peaches!
Cobbler topping that is NOT cakey, NOT biscuity, but rather something in between.
Goes perfectly with a big scoop of melty vanilla ice cream.
SO DELICIOUS.
Ingredients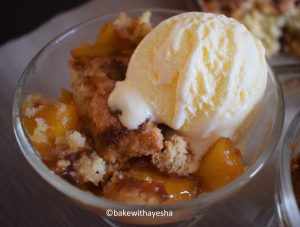 For Peach Filling:
8

–

9

medium fresh peaches, peeled and cut into 2-inch chunks

1/4 cup

or

50g

 packed light or dark brown sugar

1 tablespoon

or

7g

 cornstarch

1 tablespoon

or 15ml lemon juice

1/2 teaspoon

 pure vanilla extract

1/2 teaspoon

 ground cinnamon

A pinch

 ground nutmeg

A pinch

 salt
Biscuit Crust Topping:
2 cups

or

250g

 all-purpose flour 

1/2 cup

or

100g

 granulated sugar

1

 and 1/2 teaspoons baking powder

1/4 teaspoon

 baking soda

1/2 teaspoon

 salt

1/2 cup

or

115g

 unsalted butter, cold and cubed

1/2 cup

or 120ml buttermilk, cold*
egg wash: 1 large egg beaten with 1 Tablespoon (15ml) milk or buttermilk
optional: 2 Tablespoons (25g) brown sugar mixed with 1/2 teaspoon ground cinnamon
*if you don't have buttermilk, take 120ml milk and add in 1 tablespoon lemon juice. Stir it and set aside for 5 min.
Instructions
For Peaches Filling:
Preheat the oven to 350°F or177°C and grease a 9x7 inch deep pan.
In a large bowl, stir the peach chunks, brown sugar, cornstarch, lemon juice, vanilla, cinnamon, nutmeg, and salt together until thoroughly combined.
Spoon filling into prepared pan and bake for 10 minutes. Remove from the oven and set aside as you prepare the topping. Keep oven on.
For Biscuit Topping:
 Whisk the flour, sugar, baking powder, baking soda, and salt together in a large bowl. Add the butter. Using a pastry cutter or two forks, cut the butter into the mixture until it resembles a coarse meal or crumbly in texture.
A pastry cutter makes this step very easy and quick! While slowly stirring, slowly drizzle in the buttermilk. Mix until evenly combined.
Take handfuls of dough and gently flatten out. Place dough all over the top of the peach filling. It doesn't need to be perfect or look pretty– some peach filling can be showing.
Brush the top of the biscuit dough with egg wash, then sprinkle with cinnamon-sugar if using.
Bake for 40-45 minutes, or until lightly browned and biscuit topping is cooked through. (Stick a toothpick into the biscuit topping, if it comes out clean– it is cooked through and the cobbler is done.)
Set the pan on a wire rack, then cool for 5 minutes before serving. Serve warm with vanilla ice cream or whipped cream.
Cover and store leftovers in the refrigerator for up to 4 days.
Enjoy!