A very chocolatey, moist Chocolate Fudge Cake with swiss meringue buttercream topped with chocolate ganache, this one is sure to satisfy your chocolate cravings!
There is a lot of chocolate cake recipes out there but this one is super easy. You would be forgiven for thinking you're making a brownie when you start making this Chocolate Fudge Cake. Because that is in fact where the roots of this cake recipe are drawn from.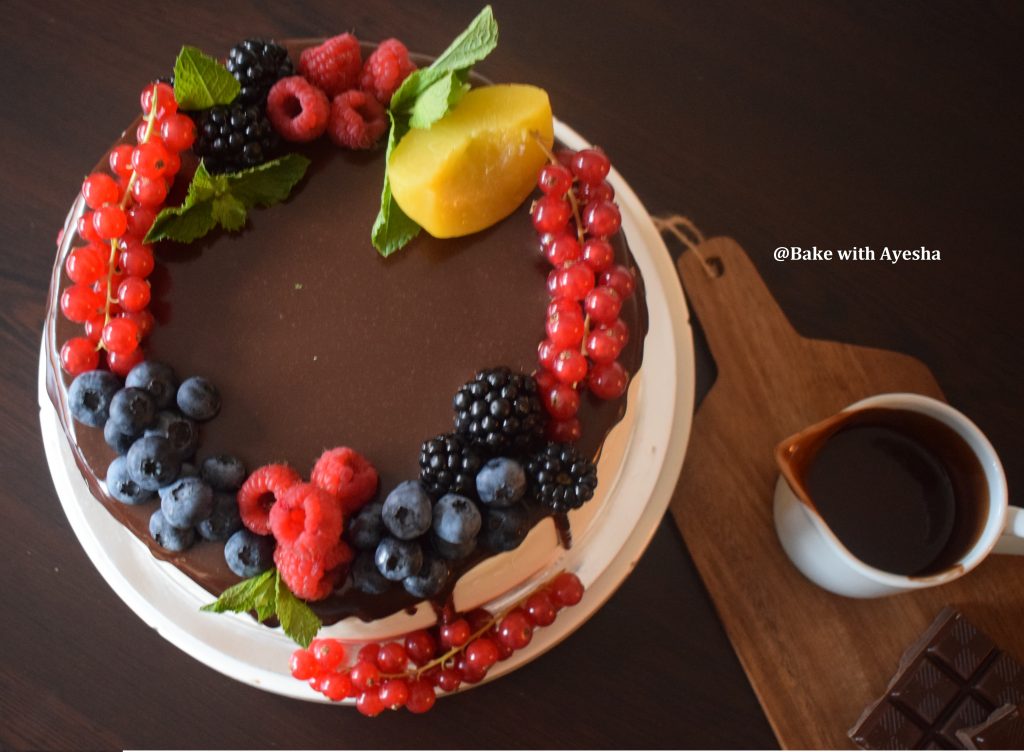 Why I Love This Fudge Cake So much?
I love this chocolaty fudge cake this much because it is highly chocolaty and it is especially for chocolate lovers. It is very fudgy and moist instead of being dry and hard. the most favorite part is its chocolate ganache topping, it is crazy easy too as well and everyone goes mad on it. Adding fruits is also one of my favorite parts because it always gives appetizing flavor and looks 🙂
How To Make The Perfect Chocolate Fudge Cake? Watch With Us!
There are always high hopes and promises of what you're looking for, but the delivery can be opposite and sometimes less than what you're craving. This Best Fudgy Chocolate Cake is coming at you in true chocolate form! let's start making the fudgiest cake so rich and decadent with this simple recipe.
How To Make A Chocolate Cake?
How to Measure the Ingredients Precisely?
Take all-purpose flour and must keep in mind that Flour must be balanced to the level of measuring bowl. this helps you to take exact measurements.
Now, Combine flour, sugar, cocoa powder, baking powder, and salt in a large bowl. Whisk thoroughly to combine well.
Add oil, egg, vanilla essence brown sugar and corn starch in a bowl and beat well to combine about 30 seconds
Pour in the boiling water and the coffee, and mix until it gives the glossy texture. Also, add the dry ingredient mixture, Cake batter must be thin in consistency. Don't over mix.
Pour the cake batter into the prepared pan of 10 inches. Tap the pan on the shelf so all the air bubbles will be removed. Bake for about 40-45 minutes, or until a toothpick inserted in the center of the chocolate cake comes out semi-clean with a small amount of cake on it due to the fudgy texture.
Cake sponge is ready! Now, remove it from the oven and allow it to cool for 20 minutes. Transfer cake from the pan to a wire rack and cool completely before topping. You can see the cake is evenly cooked and it doesn't even have a dome in the center.
Remove the top layer of cake that will be a little crispy. You need a thread to do this neatly. Or you can use a sharp knife as well. After that, you have to cut the layers by putting the toothpicks into the cake at the required height and then passing the thread to cut the layer.
your fudgy sponge will be as delicious promised if you follow me properly and take the precise amount of ingredients.
We will make a chocolate fudge frosting the cake. It's more amazing for chocolate lovers!
How to make Chocolate Fudge Frosting? Watch it with us!
Heat the chocolate and butter on the double boiler until it melts completely while stirring it. When it melts add full-fat milk in the melted chocolate and mix it thoroughly. Cover it with cling wrap and let it comes at room temperature.
Take cream cheese, sugar and vanilla in a bowl and mix these ingredients thoroughly to make a pasty structure. Now add the ganache mixture into it and mix it well. Cover it with wrapping sheet and set aside.
Cut the cake sponges into three or four equal layers and spread the frosting of fudge on each layer of cake sponge. Cover the frosting with the other layer of cake sponge. Let it set for a few hours in the refrigerator.
Swiss Meringue Buttercream :
How to make Swiss Meringue Buttercream? Watch it with us!
For making the buttercream you need egg white only. Separate the egg yolks carefully. Add sugar in the egg white and whisk it up to the required temperature(160 degrees F) on a double boiler method. Mix it thoroughly.
Now start beating the ingredients until it gives a foamy cream and glossy peaks and you will notice the marshmallow texture then add butter and vanilla essence into it.
Beat it for enough time that you get the required texture of the cream. Classic perfect sweet swiss buttercream frosting is ready.
FROSTING:
Apply an even layer of buttercream on the sponge. After it, we will be giving the final touch to our fudge cake. After crumb coat refrigerates the cake for 3-4 hours.
After the final coat of swiss meringue, On top, I poured chocolate ganache by mixing chocolate and cream with butter on a double boiler. Finally decorate this cake with berries because I love berries 🙂