This easy no-bake cheesecake is light, creamy, and delicious. You will like the sweet cream filling with a touch fragrant crust packed with roasted almonds.
This no-bake cheesecake is super easy when people are coming around and you are running short of time but you also want to impress your guests without burning your oven. So this cake will help you mesmerizing your guests and you can make this delicious creamy dessert in a really short time.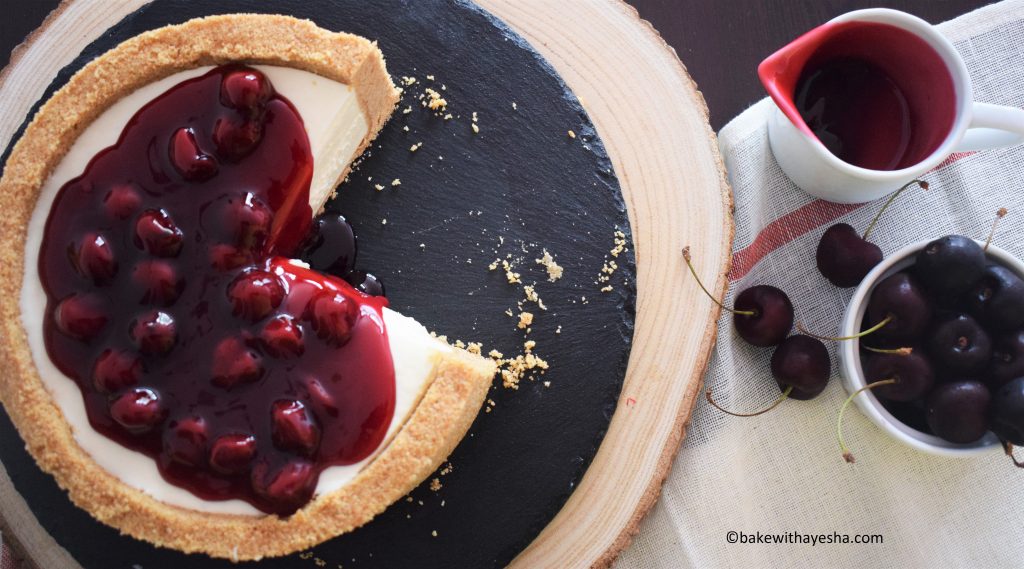 Why I Love This No-Bake CheeseCake?
I love this cake because it can be made in a short time and you don't need to turn on your oven. Secondly, it is a super delicious rich in cheese, cake. I love to serve it with berries. No-bake cheesecake is not overly heavy. It is lightly sweet and perfectly refreshing! It's so easy that you can make it without shortcomings even perfectly in your first attempt.
How To Make The No-Bake Cheesecake? Watch With Us!
Tips For Perfect No-Bake Cheese Cake:
Start with room temperature cream cheese.
Beat the cream cheese and sugars until completely smooth.
Do well to scrape the bowl down a few times.
Give the cream, a quick whisk in a bowl to improve its consistency.
This cheesecake is best when chilled overnight so try and wait before you cut it.
How To Make The No-Bake Cheese Cake Crust:
I have chosen digestive cookies for this crust. You can make this crust with graham crackers and cookies of your choice. There is no hard rule for the selection of crust. and I think this is one of the best things about this cheesecake. Add the Graham crackers, almond powder, salt, and brown sugar to the bowl food processor and pulse until you get small crumbs.
If you don't have a food processor then nothing to worry, just place the ingredients in a large ziplock bag and smash them with a rolling pin then transfer to a bowl and mix together.
Add in the melted warm butter while you pulse. Carefully remove the blade and use a spatula to mix in all the butter and get a uniform consistency. And now, transfer the crust to a springform pan.
Use a tall glass to press the crust into the springform pan. Try to press it hard so the crust is as compact as possible. Doing this will give you a less crumbly crust that holds together well.
This crust looks so satisfying to me 🙂 Place this crust in the freezer while the cheese filling is made.
Cheesecake Filling:
Add the room temperature cream cheese and sugar to the bowl of your stand mixer fitted with a paddle attachment and cream together until well combined.
Add the sweetened condensed milk while the mixer is running. Drop-in your room temperature sour cream. Mix for a bit then scrape the bowl down and mix until fully incorporated.
What if you don't have sour cream ahan you can easily make it at home just by adding lemon juice in heavy cream. It's so simple.
Whip the cream and vanilla extract in a separate bowl until you have semi-firm peaks. You want the whipped cream to be as thick as possible without turning into butter. Fold the whipped cream into the cheesecake filling. Make sure to scrape the bowl down and really give it a good mix.
Now its time to transfer the filling to the prepared crust.
Smooth the top with a spatula and chill the cheesecake overnight covered with a paper towel.
How to Make Cherries Sauce?
This quick and easy homemade Cherry Sauce is loaded with sweet juicy cherries. We love this cherry topping on cheesecake, waffles, ice cream, and cakes!
In a medium saucepan (off the heat), add pitted fresh, canned, or frozen cherries. I used canned cherries. Add cherries juice and whisk in 2 Tbsp cornstarch, 1 Tbsp lemon juice, and 2 Tbsp sugar.
Place over medium heat and whisk constantly until the mixture starts to thicken. The sauce should be thickened and uniformly bubbling, not just at the edges, then remove from heat. Let it cool.
Ready to serve the easy No-Bake CheeseCake. I served it with berries. you can garnish it with strawberries or any other flavor of your choice or you can simply enjoy it plain.