It's light, glossy, silky, and smooth peaks are so satisfying and unique, holding the shape beautifully and not tooth-achingly sweet.
You want to make perfectly fine Swiss meringue buttercream but afraid to get less peaky flat cream? Okay! Let me break the barrier for you. I am going to share a really fine recipe that will give you the perfect Swiss meringue buttercream if you follow each step very carefully you will get the most delicate taste.
How To Make SWISS MERINGUE BUTTERCREAM? Watch it with us!
WHAT IS SWISS MERINGUE BUTTERCREAM?
Swiss meringue buttercream is a uniquely stable, not highly extra sweet frosting (aka American frosting). It can be used in cakes, cupcakes, and also in macrons. Moreover, its method is arguably the easiest because it needs only five to six ingredients.
WHAT ARE STIFF PEAKS?
When you will be mixing cooked egg whites and sugar, the meringue should form stiff and glossy peaks. This means it forms stiff, smooth, and sharp edges in the bowl or on the lifted whisk attachment. Stiff peaks do not droop down.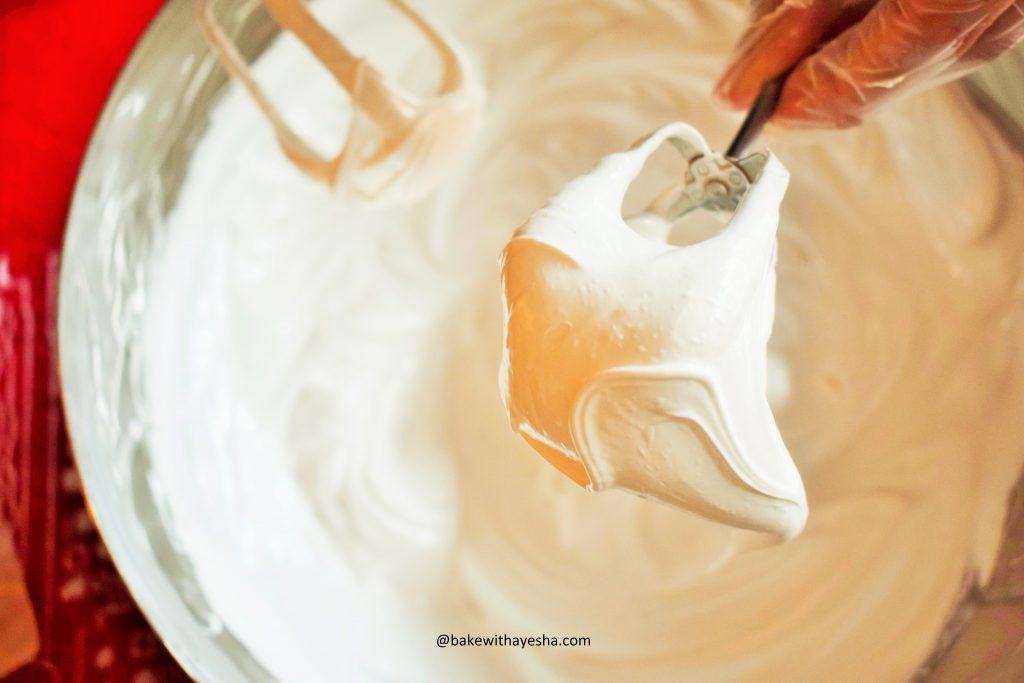 WHY EVERYONE LOVE SWISS MERINGUE BUTTERCREAM?
The best part – why everyone loves it– is that it's not extra sweet like traditional American buttercream. I love it because it has an incredibly smooth texture. It is made with very few ingredients but it is so perfect that you will love to use it for taking your cakes and cupcakes to the next level.
SHORTCOMINGS WHILE MAKING SWISS MERINGUE:
Swiss meringue buttercream is made from cooked egg whites and sugar. Whipping the cooked egg whites and sugar into stiff peaks is a long process and here some troubles can start, including never reaching stiff peaks. The butter can also melt, leaving you with soupy texture. Or you can over-whip everything into curdles. But don't worry, there's usually a fix for everything.
IS IT HARD TO MAKE SWISS MERINGUE BUTTERCREAM?
If you think, it's difficult to get the exact texture then it's not true because, with just your little effort, the payoff will be huge. There are just a few pitfalls and I'll break them off for you. You just have to follow each step carefully and when in the end, you will take a taste, you'll be struck by its subtle sweetness, and the way it just melts on your tongue.
PRO-TIP FOR SWISS MERINGUE BUTTERCREAM:
Wipe all the tools you are going to use for making this buttercream with lemon juice or vinegar. It will help you in making perfect Swiss meringue buttercream so, keep even a little grease away from egg whites.
Use fresh eggs instead of packed egg whites for the best results.
Separate the egg white from yolk when they are cold. It will be easier. If you feel difficulty in separating the egg yolk and white, egg separator is recommended.
Use unsalted butter for perfect taste and cut it into cubes before whipping. This will help your mixture not to fly.
Don't cook your egg mixture on direct heat. Use a double boiler method.
How to Fix Grainy Swiss Meringue Buttercream?
For making the buttercream you need egg white only and sugar in the bowl and you need to whisk it up to the required temperature (160 degrees F) on a double boiler method. Mixing it occasionally will prevent it from being little grainy. When sugar melts completely the end product will be fine, silky, and smooth.
If you don't heat the egg whites and sugar properly by giving the required amount of time(5 minutes) you might get little sugar crystals while eating.
There might be another reason to get the grainy buttercream, you cooked your sugar much than the required time and it becomes crystalline.
You can easily fix this by straining the egg meringue before adding the butter will give you the smooth and perfect nice swiss meringue buttercream.
You will notice the mixture just transformed from transparent to opaque and thinner than prior. This is the right time to check it by meshing between your finger and thumb. You can also check by using a candy thermometer (160 degrees F), if you feel grains, keep on cooking it. If smooth means it is ready for the next step.
WHY IS MY SWISS MERINGUE BUTTERCREAM LOOK CURDLED?
When you start beating the ingredients, it gives a foamy cream and glossy peaks. A stage will come where it looks curdled, broken, or split but believe me you are doing right! Don't worry; you need to keep on beating it. This happens before getting a fully prepared Swiss meringue buttercream and you will shortly notice the marshmallow texture then add butter and vanilla essence into it. Sometimes it happens when you add cold butter in the meringue. Both meringue and butter temperature should be same when you mix each other.
WHY IS MY SWISS MERINGUE BUTTERCREAM RUNNY?
Temperature is very important to check at each step for getting the best results because only at the right temperature the sugar will melt and you need to cool the mixture before adding the butter cubes. Otherwise, a hot mixture will melt the butter and you will get a runny buttercream. But still don't worry, we got a solution!
If in case you get it runny, just put the whole mixture into the refrigerator for 20 minutes and it works like a magic!
Beat it for enough time that you get the required texture of the cream. Classic perfect sweet Swiss buttercream frosting is ready for your cake.
WHY MY SWISS MERINGUE BUTTERCREAM IS SALTY/ TASTE LIKE BUTTER ONLY:
Always use unsalted butter for perfect taste because salted butter leaves your frosting with an overwhelmingly salty/buttery flavor. Use pure vanilla extract to flavor it and add a pinch of regular table salt.
FREEZING SWISS MERINGUE BUTTERCREAM:
Swiss meringue buttercream is good to use when covered at room temperature for 1-2 days, but after that, you need to refrigerate it for up to 5 days or freeze up to 3 months. When you need to use it take it out and once it reaches completely at room temperature, about 72°F (22°C), place into the bowl of your stand mixer fitted with a paddle attachment and beat for 2-3 minutes until creamy again.
SWISS MERINGUE BUTTERCREAM VS. AMERICAN BUTTERCREAM:
I honestly thinkSwissmeringue buttercream the most stable buttercream. It works really well for piping, and it holds up beautifully. Its main portion is butter so it may cause a problem is really hot days but all you have to do is to just keep your cake or cupcakes refrigerated until ready to serve. It also works very well under the fondant! It gives you a perfectly smooth surface with no lumps or bumps. Swiss meringue buttercream is the easiest of the meringue buttercreams.
Swiss meringue buttercream will not crust or dry as American style buttercream does. This makes it really easy to work with, especially if you're trying to get a perfectly smooth finish on your cakes. Swiss meringue buttercream is super versatile!
FLAVOURS OF SWISS MERINGUE BUTTERCREAM:
It can be colored with ICING COLOURS and flavored in TONS of different ways LIKE:
You can add dark chocolate or white chocolate for CHOCOLATE SWISS MERINGUE, dried strawberries powder for STRAWBERRY SWISS MERINGUE, instant espresso powder for COFFEE SWISS MERINGUE. These are just a few flavors shortlisted but you can add a wide variety of your choice.
Ingredients

Swiss Meringue Buttercream :
5 egg whites at room temperature
1 1/2 cup or 300gram sugar
2 cup or 452grams unsalted butter at room temperature
1 teaspoon vanilla extract
Instructions
Swiss Meringue Buttercream:
Separate the egg yolks from egg whites carefully. Your eggs must be at room temperature for 12 hours.
Add sugar in the egg white and whisk it up.
Cook the egg whites and sugar mixture on a double boiler until it reaches the temperature(160 degrees F) or until you get a thread-like structure when you hold the mixture in your fingers.
Remove the egg whites from heat and pour in a stand mixer bowl. Now start beating the ingredients for 1 min on a slow speed and then after one minute on medium speed until it gives glossy peaks and you will notice the marshmallow texture.
Now add butter and vanilla essence into it. Keep in mind your meringue should be cool down and comes at room temperature before going to add butter in it, otherwise, the butter will melt in the meringue. 
Keep whisking until you get the desired consistency.
Classic perfect sweet swiss buttercream frosting is ready. Apply the topping on the cake.
You can store it in the refrigerator up to weeks and in the freezer up to months.