The only royal icing recipe you'll ever need! Made using only three ingredients, this easy royal icing recipe is perfect for decorating cookies, cakes, cupcakes, & gingerbread houses. Easy, pipes smooth, & dries hard.
HOW DO YOU MAKE ROYAL ICING FROM SCRATCH?
Royal Icing is a pure white icing that dries to a smooth, hard, matte finish. Besides its lovely finish, it also adds colors beautifully to the cookies which makes it a favorite of those who use it not only for frosting cakes and cookies, but also for intricate piping of decorations (flowers, borders, and lettering).
There are two ways to make royal icing. My preference is to use one made from a mixture of confectioners sugar (powdered or icing), lemon juice or cream of tartar, and raw egg whites.
Before you run the other way screaming, "I'M SCARED OF ROYAL ICING", stick with me because the recipe royal icing I am sharing with you today is so easy to make and you will learn at the end how to achieve the right consistency that a lot of people have with it.
HOW DO YOU MAKE ROYAL ICING EASILY? WATCH WITH US!
I have a few great cookie recipes on this site that are just begging for a little royal icing embellishment! Be sure to check out my THE BEST SUGAR COOKIE RECIPE ~ PERFECT FOR CUTOUT COOKIES
Royal icing is my most favorite icing to work with. It's really fun to use for cookie decorating. So when we started decorating I read a lot of cookie blogs online and most of them use meringue powder in their recipes. It's not easy to find or buy meringue powder everywhere in other countries, and they are quite expensive, so I searched for alternatives and found that we can also make royal icing with egg whites! Yay, that is the perfect solution for us as we always have eggs in our house. So this recipe is for those of you who want to make royal icing to decorate cookies and cakes but may not be able to source meringue powder in your country.
IS IT SAFE TO EAT ROYAL ICING MADE WITH RAW EGGS?
Just like cooked eggs, raw eggs are extremely nutritious. They're rich in high-quality protein, healthy fats, vitamins, minerals, eye-protecting antioxidants, and various other nutrients. Still, if some of you feel hesitant to use raw eggs I would suggest you buy Pasteurized eggs.
You can purchase pasteurized egg whites in most grocery stores. Pasteurized egg whites come in a carton, usually in the same area where you would buy regular eggs. The word "pasteurized" is one the box but sometimes can be very small and hard to locate. Don't worry, if the egg whites are in a box then it can be safely assumed they are already pasteurized. Another option is to substitute with powdered egg whites – if you are using powdered egg whites use 6 teaspoons dissolved in 6 Tablespoons of warm water.
WHAT DOES ROYAL ICING TASTE LIKE?
Royal icing mostly just tastes like sugar. It's very sweet, and most meringue powders will also give it a subtle vanilla flavor. You can jazz up the taste by adding lemon juice or any other kind of extract, but just be aware of how liquids affect the consistency. Decorating with royal icing is ALL about the consistency!
WHAT DOES CREAM OF TARTER OR LEMON JUICE DO IN YOUR ICING?
 Cream of tartar is one of the more mysterious yet most common ingredients in baking. It can also be one of the more elusive ones to find in some countries! Cream of tartar is often included in royal icing recipes, as one of its key functions is to stabilize whipped egg whites. In short: the acid in it prevents water from separating from an egg white foam, which would, in turn, cause the foam to collapse. Cream of tartar can be replaced with about double the amount of strained lemon juice, as it is also an acid that has a similar stabilizing effect. So in this recipe that I am going to use cream of tartar will help the whites to stabilize.

HOW DO YOU GET THE RIGHT CONSISTENCY?
Icing consistency is the key factor in your success or failure as a cookie decorator. When your icing consistency is 'on-point' you will find cookie decorating to be enjoyable and very satisfying. On the other hand, if you get the wrong icing consistency it will frustrate you to no end. So how do we nailed that icing consistency to make cookie decorating enjoyable?
Let me just say that there is no right or wrong way of doing this, I am simply showing you my method on how to know when your icing has reached the correct consistency to use for different aspects of cookie decorating. When we whip the egg whites and the end result comes at a stiff peak.
Stiff Consistency:
This is usually how the icing came out of the mixer. This mush consistency of icing is used for making borders, roses, ruffles, basketweave, and piping for cupcakes and cakes. How to achieve stiff consistency icing: I mix my icing on medium-low speed with the paddle attachment so as not to incorporate too much air. While the icing will increase in volume and lighten in color as it is mixing, it should be thick and dense rather than very fluffy. Fluffy icing has too much air, leading to problems with air bubbles later on.
Medium consistency:
This consistency is achieved by adding some water in the stiff royal icing and this is used for outlining or piping little details or for writing. The best way to describe this consistency is that it is similar to soft-serve ice cream that's on the verge of melting. It holds a very soft peak and doesn't spread on its own. It can, however, be smoothed out with a scribe tool.
Flooding Consistency:
I mostly use this one royal icing for both piping/outlining and flooding. It is thick enough to outline and thin enough to flood, but not so thin that it runs off the edge of the cookie, which makes it super convenient. As I said, when it comes to royal icing, consistency is so important! You want to start out by making your icing as stiff as possible. Whip it for a long time so it gets lots of air in it. Then, scoop a little into a small bowl, and tint it with your icing colors.
Adjust the consistency by spraying the water and mix it. when lifting the icing with a spatula and it falls back into a bowl like a liquid honey consistency's I know it has reached the point when I can use it for outlining my cookies and fill the body with it.
What if I've added too much water to my flood consistency icing?
If you've added too much water, you can add either more powdered sugar or you can add a spoonful of stiff icing to thicken it back up. Keep a batch of stiff icing on hand for this purpose.
HOW TO STORE ROYAL ICING?
It's better to have too much icing than not enough, so I almost always have royal icing left over after finishing a project. Even when I'm going to be using the same icing the next day to finish up a set of cookies, I never store the icing in the bags overnight – I always empty the bags into an airtight container, place a piece of plastic wrap directly on the surface, close the lid, and put the icing into the refrigerator. You can freeze it up to months.
HOW LONG DOES IT TAKE ICING TO DRY OR SET HARD?
It takes at least 6 hours for flood consistency royal icing to dry completely, but I always allow the base layer of icing to dry overnight to be on the safe side. The cookies need to be left out in the open to dry properly, so make sure to let them breathe – don't cover them up! In order to get a smooth, shiny finish on your cookies, make sure to dry them in front of a fan for at least the first hour. The faster the icing dries, the smoother the surface will be.
Medium or stiff consistency icing is usually used for small details, which only takes an hour or so to dry. If you're using medium consistency icing to make royal icing transfers, you'll still want to let those dry overnight with the fan for the first hour in order to reduce the risk of breakage.
Ingredients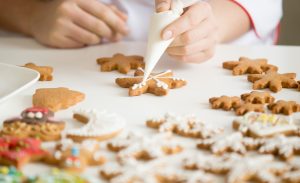 500 grams icing sugar/powdered sugar (Sifted - to ensure there won't be any lumps in your icing)
¼ tsp cream of tartar or 1 teaspoon lemon juice
3 egg whites at room temperature
1 teaspoon vanilla extract or  flavouring of your choice (vanilla, almond, strawberry extract/essence)
Gel food colouring of your choice, to colour your icing
Instructions
Sift your icing sugar and put it into the bowl of your mixer. 
Add the cream of tartar or lemon juice and mix them together in the bowl with a spatula. 
Add the egg whites into the bowl and stir in with a spatula to moisten the sugar. 
Fit a whisk attachment into the mixer and beat the mixture on low speed to evenly distribute the egg whites. 
Add flavoring of your choice (vanilla, strawberry extract), our favorite is the Vanilla essence as they smell so sweet and delicious! Mix the flavouring well and mix until the icing is smooth & silky.
Add a squirt of white gel food coloring to ensure the icing color will be pure white and not off-white. It's optional you can skip it.
Turn the mixer to medium-high speed and continue to beat for another 1 to 2 minutes, when you see the icing turns thick & very white you can turn off the mixer as the royal icing is now ready to use.
It is very important to take care not to overbeat your icing. Extended beating, can pump a lot of air into it and creates air bubbles that can be a pain to eliminate during the decorating process.
🔹Tips on storing your icing:
You can store the icing in the freezer and they can last up to a few months. If you are going to store your icing, ensure to use air-tight containers and use a plastic cling wrap to cover the surface flush with the plastic wrap - this will prevent the icing from crusting and then add another layer of cling wrap on top before putting the lid on for double protection, then store the icing in the freezer.
When you need to use the icing, simply take out one of the containers and leave it on the benchtop to bring the icing to room temperature. Then open the container and take out as much icing as you need to use and spray some water (use a spray bottle for more control) to adjust the consistency as needed.