Chocolate Ganache Frosting/icing is luscious and decadent dessert topping & here is an indulgent way to top your favorite cake or cupcakes with the no-fail recipe!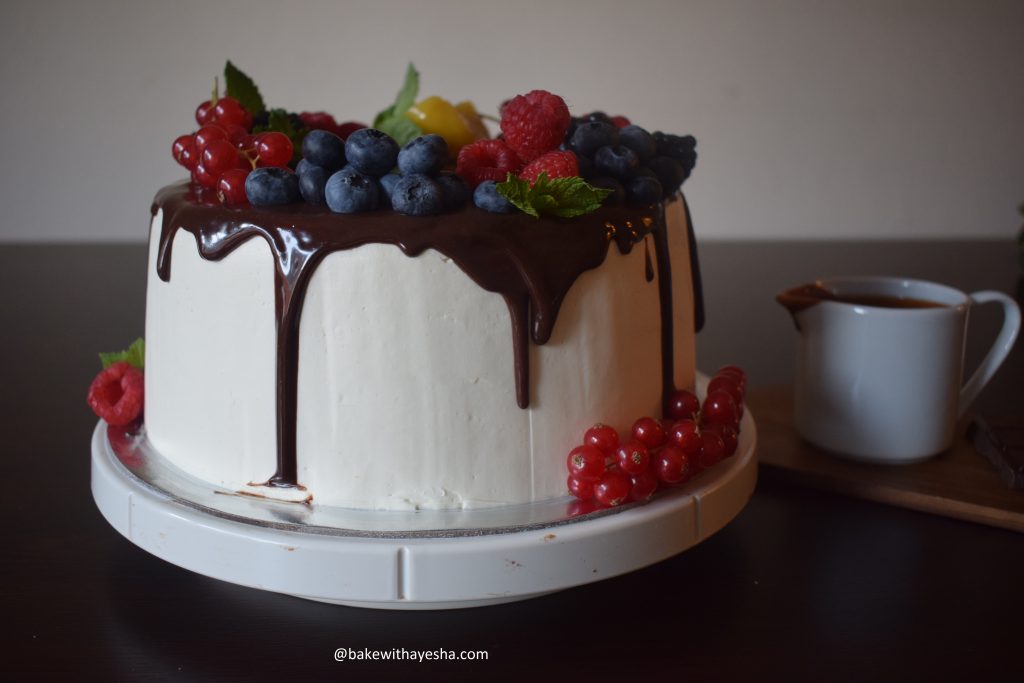 When you say chocolate ganache, it sounds like difficult or high energy taking thing to make, but trust me chocolate ganache is actually simple and easy to make and the amazing part is, it only requires two ingredients: chocolate and heavy whipping cream.
How to make Chocolate Fudge Frosting? Watch it with us!
WHAT IS GANACHE?
Chocolate Ganache is a very easy and rich glaze or filling made from two basic ingredients; chocolate and cream which gives the ganache smooth and shiny texture. You can use ganache to top pies, cakes, cupcakes, and even Brownies! Usually, ganache is poured as a glaze because it has thin liquidity and allowed to cool to produce a decadent shiny finish on desserts.
WHY THIS RECIPE WORKS/ INGREDIENT NOTES:
You can use any cream or any milk in this recipe. If you are using milk, it is better to use butter as well to give your ganache a good texture.
I recommend you to use semisweet chocolate to prevent the ganache from being extra sweet. It contains 55% cocoa which melts easily. You can also add a pinch of salt to reduce the high level of sweetness but it's totally optional. Chocolate chips can also be used.
Whip the Ganache and it becomes light, fluffy, and easy to spread or pipe.
PRO TIP FOR MAKING CHOCOLATE GANACHE:
It is just a two-ingredient recipe but you need to be careful with these too.
Do not bring the cream to a full boil. Once your cream reaches a simmer, pour it over the chopped chocolate pieces. Let the cream and chocolate sit for a few minutes so the chocolate becomes a little softer and then moves for the next step.
CHOCOLATE GANACHE RECIPE:
You need chocolate and heavy whipping cream. Start with some semi-sweet chocolate (any), roughly chop it into smaller pieces.
You don't need to perfectly chop the chocolate in any shape, just make sure the pieces aren't too large. Small pieces are easy to deal with.
Heat your heavy whipping cream either on the stove or in a microwave oven. It will take a very little time like hardly 2-3 minutes on the stove and a minute in the microwave. Don't overheat. Keep a close eye on it. When it starts bubbling just remove it from the stove.
Now pour it over the chopped chocolate pieces/chocolate chips and let it sit for 3-5 minutes. So it may melt the chocolate pieces. You can cover the bowl with wrapping sheet if you like, to trap in the heat.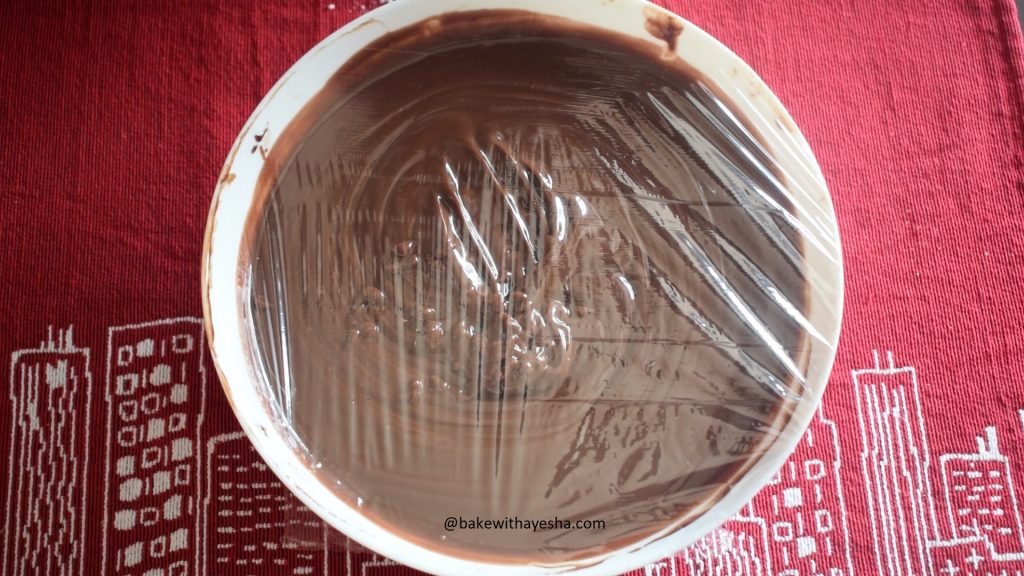 Towards the last step! Now whisk the mixture of chocolate and cream together. Start slowly from the center of the bowl then gain speed gradually and keep on whisking it in the same direction until it all comes together and you get a silky smooth consistency.
What Can I Substitute For Heavy Cream In Ganache?
To substitute heavy cream in ganache you can use milk, or even melted ice cream.in case if you use milk I recommend you add one or two cubes butter for getting the required consistency.
CHOCOLATE IS NOT MELTING?
If your chocolate is not melting, make sure your chopped chocolate pieces are not large enough to resist the melting process and you also have to check the temperature of whipping cream or milk. If it is not warm enough to melt the chocolate, bring it to the required heat.
WHAT TO USE CHOCOLATE GANACHE FOR:
Depending on the temperature and thickness of your ganache, it can be used as ganache topping and also as frosting.
I love to use chocolate ganache to top cakes, cupcakes, pancakes, ice-cream, brownie, and many more. The options are endless.
THE DIFFERENCE BETWEEN CHOCOLATE GANACHE AND CHOCOLATE FROSTING:
The basic and only difference between chocolate ganache and chocolate frosting is the ingredients. The frosting has a butter base and we add powdered sugar to add flavor and volume. Ganache is pure chocolate and cream mixture. Ganache is thinner like syrup and frosting contains more sugar and butter and it is to eat.
DOES GANACHE SET HARD? / WHY MY GANACHE IS RUNNY?
Ganache may set hard if left in cold temperatures. If it seems a little thick, you can warm it back up or simply leave it on room temperature for a little until it can easily be mixed and if it seems a little thin, let it cool down.
HOW TO WORK WITH CHOCOLATE GANACHE?
Temperature is the most important factor. When the ganache is warmer, it is thin while after a short time when it cools it becomes a little thicker, but it is still nice and pourable. For piping, refrigerate it first.
After the final coat of Swiss meringue on my cake, I poured chocolate ganache.
Ingredients

Chocolate Ganache:
1 cup/ 227 g heavy cream
2-2/3 cups or 454gram semisweet or bittersweet chocolate
2tb spoon corn syrup
1/2 teaspoon vanilla essence
Instructions
Chocolate Ganache Topping:
Chop the chocolate into small pieces so the melting process works easily.
Heat the heavy whipping cream on direct stove or put it in the microwave oven for one or two minutes. Don't boil it.
now pour this warm cream or milk on the chopped chocolate pieces and wait for two minutes so, the chocolate starts melting.
Now mix the ingredients together until every bit of chocolate melts.
Add corn syrup into the mixture. Let it comes to room temperature.
Pour on the top of the cake, cupcake or brownie, and decorate with berries. 
Enjoy!