Sweet, soft, and full of orange flavor, this orange loaf cake is perfect for a treat in the winter season. This loaf cake is made simple and quick then topped with a gorgeous orange glaze.
This moist, soft Orange Buttermilk Pound cake is really fresh, full of tart flavors and makes for a perfect tea time snack. Every slice is citrusy and when served with a dollop of cream, its absolutely irresistible!
How to Make Orange Buttermilk Loaf Video:
In the video description, I used half the quantity of my ingredients to make only one 9 inches orange loaf. Here is a gorgeous orange-infused loaf cake. The loaf cake is soft, tender, and full of orange flavor.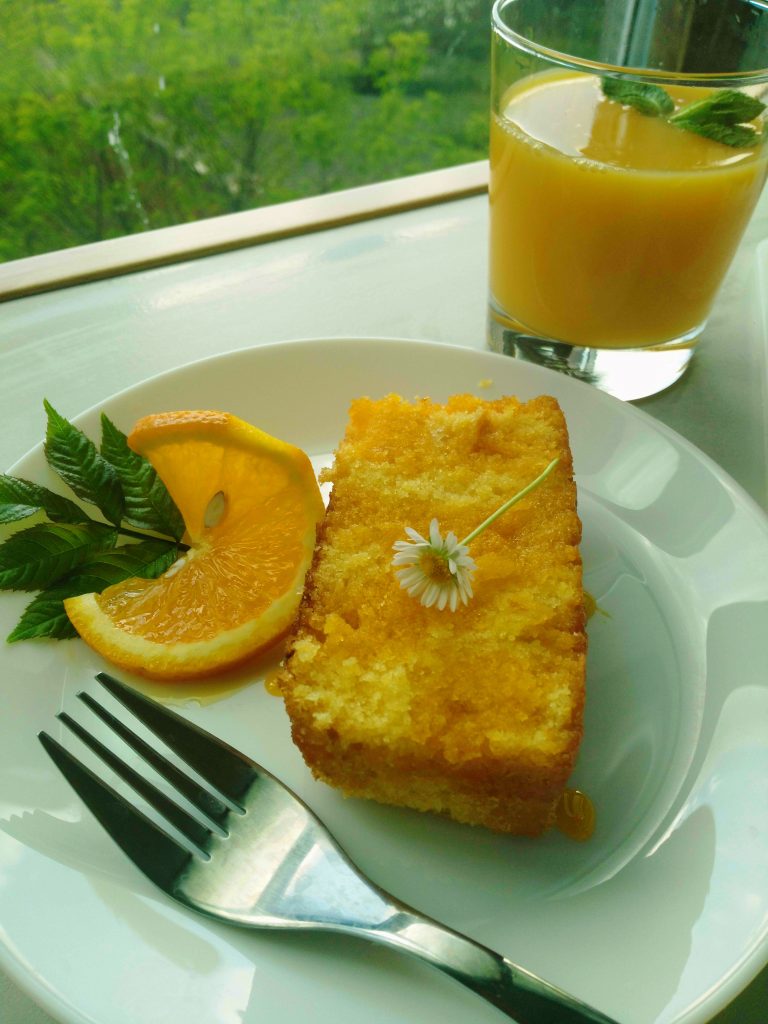 It makes 2 loaves of the best Orange Buttermilk Pound Cake you'll ever eat! The orange flavor is absolutely perfect! It's in the cake by adding orange zest and orange juice to the batter. It's also topped with an orange glaze after it's baked. It's melt in your mouth goodness that you can make. That's what I'm talking about! Adorn a slice of pound cake with whipped cream or ice cream, dice it and use it for a trifle for dessert, it's all at your fingertips when you bake.
How to Make Buttermilk from Scratch:
All you need are two ingredients to make homemade buttermilk! Step 1: Pour 1 cup of milk into a bowl. Step 2: Grab one small fresh lemon or white vinegar. Stir in a tablespoon or two of lemon juice OR vinegar into the bowl with the milk and set aside for few minutes. That's it! your buttermilk is ready.
Ingredients
For two 9 inches loaf pan
2 sticks or 1 cup or 227grams unsalted butter, at room temperature
2 cups granulated sugar 
4 eggs, at room temperature
1/3 cup grated orange zest (about 6 oranges)
3 cups all-purpose flour
1/2 teaspoon baking powder
1/2 teaspoon baking soda
1 teaspoon kosher salt
1/4 cup freshly squeezed orange juice, divided
3/4 cup buttermilk, room temperature** see notes
1 teaspoon pure vanilla extract
Glazes for one loaf
1/2 cup confectioners' sugar, sifted
1/2 cup orange juice
Instructions
Preheat the oven to 350F or 180C degrees. Grease and flour two 8 or 9-inch loaf pans. Line the bottoms with parchment paper.
Place the butter and 2 cups of sugar in a large bowl. Beat the mixture for about 5 minutes or until light and fluffy.
Beat the eggs into the butter mixture one at a time, then add the orange zest to the bowl and mix until incorporated.
Sift the flour, baking powder, baking soda, and salt together in a large bowl.
In a medium bowl combine 1/4 cup orange juice, the buttermilk, and vanilla.
Add the flour and buttermilk mixtures alternately to the batter, beginning and ending with the flour mixture.
Divide the batter evenly between the 2 prepared loaf pans. Smooth the tops and bake for 45 minutes to 1 hour or until a toothpick inserted comes out clean.
Orange Glaze:
While the cake bakes, place  1/2 cup white sugar with the remaining 1/2 cup orange juice in a small saucepan. Cook over low heat until the sugar dissolves and thickened for 3  minutes.
When the cakes are done, let them cool 15 minutes on a wire rack. Remove the cakes from the pans onto a wire rack. Spoon the orange syrup over both loaves evenly. Allow the cakes to cool completely.