If you're looking for the BEST chocolate chip banana bread…this is the best one! This one is so incredibly moist, flavorful, and loaded with chocolate chips. Forget about any other chocolate chip banana bread recipe because this is all you'll ever need!
I don't know about you but we use bananas in our daily routine! and it was a big question of what should we do with the overripe bananas. I am sure you have too… WAIT! Don't do it! Don't throw those ripe bananas away!
The secret of this banana bread is the overripe bananas! You DO NOT have to throw ripe bananas away! Why? Because these almost-ready-to-trash bananas make deliciously moist, sweet and flavorful bread.
Let me explain why this is the best banana bread recipe you'll ever need. First it's outrageously moist. This recipe has butter, as well as yogart, which not only make it unbelievably soft, they also give great flavor. Of course I use chocolate chips in this recipe, that you can omit if you want, but I urge you not to, at least the first time you make this recipe.
HOW TO MAKE THE BEST CHOCOLATE CHIP BANANA BREAD
Before you start, make sure you have "Brown" bananas. Yellow bananas with a couple of brown spots, or it would be best if you let the bananas to be brown all over. The browner the bananas, the sweeter your banana bread will be. Mash the brown bananas with a fork until they are smooth. You don't want chunky bananas.
Scoop and level your flour. By that I mean, spoon the flour into your measuring cup then level it off with a flat edge. This will ensure you don't use too much. Whisk all of the dry ingredients together: all-purpose flour, baking powder, baking soda, cinnamon (optional).
Use BROWN sugar, not granulated sugar. Although this time I used half regular and half brown sugar. The brown sugar adds so much more flavor than white sugar and keeps the banana bread extra moist and soft.
Use melted and slightly cooled unsalted butter. The butter gives the banana bread a buttery cake-like flavor.
Use room temperature eggs. If you forget to set them out, you can let them sit in a bowl of hot water until you are ready to use them.
Mix all of the liquid ingredients together and then add the dry ingredients. Mix until JUST combined. Don't over mix or your bread will sink and the texture will be tough. I don't like to use a mixer because I don't want to over mix the ingredients. You just need a bowl and a spoon or spatula. Add the chocolate chips and stir them in gently, just until incorporated.
Pour the batter into the prepared loaf tin, smoothing it out on top. You can sprinkle more chocolate chips on top and split the banana in half and place it on the top of batter.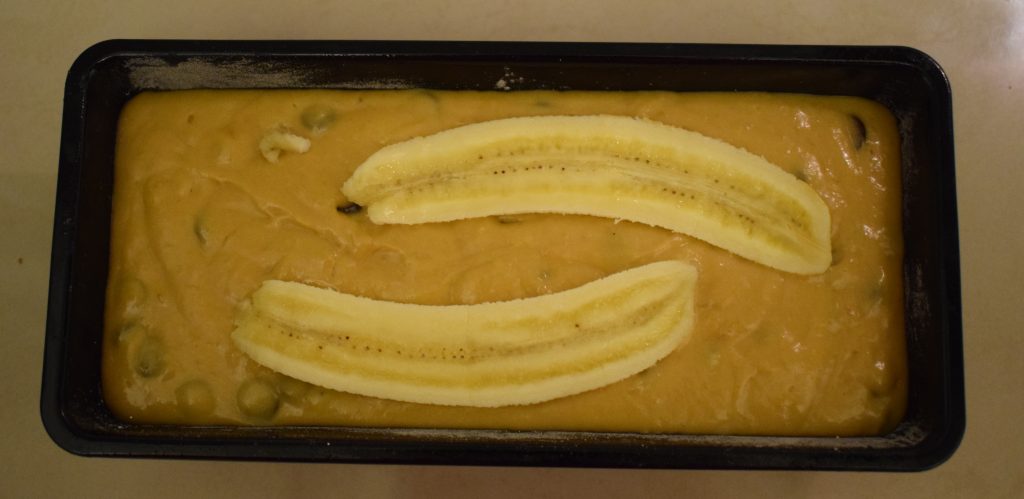 Bake at 325F for 50 to 60 minutes or until the bread is golden brown and a toothpick inserted into the center comes out clean. If you get chocolate on the toothpick, that is ok, you just don't want any gooey banana to come out. If the top of the bread is browning too quickly and the center isn't done, you can drape a piece of aluminum foil over the bread and finish baking.
If you like this Chocolate Banana Bread, you might also like:
THE BEST DOUBLE CHOCOLATE BANANA BREAD
Ingredients
2 cups all-purpose flour
3/4 teaspoon soda bicarbonate (baking soda) it's equal to 1/2 + 1/4 teaspoon
1/2 teaspoon salt
1/2 cup brown sugar
1/2 cup regular sugar
3 very ripe bananas mashed well
6 tablespoon unsalted butter melted and cooled at room temperature
2 large eggs at room temperature
1/4 cup plain yogurt ( it must be thick )
1 cup chocolate chips I prefer dark chocolate, you can either use milk 
1 teaspoon vanilla extract
Instructions
Preheat your oven to 325F or 180C and grease and line a 9×5 loaf pan with parchment paper.
In a medium bowl, sift and whisk together all-purpose flour, baking soda, and salt. Set aside.
In another bowl mash 3 ripe bananas with a fork and make a smooth puree.
In a large bowl, combine the mashed bananas with the brown sugar, regular sugar, eggs and mix with an electric blender until smooth. 
Pour in the melted butter and vanilla extract and mix until combined.
Add the dry ingredients and mix until just combined, don't over mix. Add plain yogurt in the mixture and combine well. 
Gently fold in ¾ cup of the chocolate chips. Pour the batter into the prepared loaf pan. Top with the remaining ¼ cup of chocolate chips. Bake until golden brown and a toothpick or cake tester comes out clean, about 50 to 60 minutes.
Remove the bread from the oven and let sit in the pan for 10 minutes. Loosen with a bread knife around the edges and carefully remove the bread from the pan. Cool completely on a cooling rack before slicing.
Enjoy with cream cheese frosting or you can take it with coffee or tea and I loved it anyway 😀 Do share your reviews with us!